Returning to Campus After A Year of Zoom
Students who remained fully virtual in 2020-2021 recall the experience, as they return to Friends in person
Imagine looking through a window and seeing your friends all having fun. But, no matter how hard everyone tries to let you join in, the window keeps getting in the way. 
This is what it felt like be a fully virtual student last year. 
For most of the 2020-2021 school year, Friends gave students the option to return to school in person, or stay fully virtual. For various reasons, some, like myself, stayed home.
"It wasn't really my choice, necessarily," says sophomore Maeve Reichert, who spent three out of four quarters as a virtual student. "It was my parents' choice because my brother had asthma, so we didn't want to risk me getting COVID and bringing it back to the family."
"It was mainly just for safety reasons," says freshman Khalil Lovett, who spent his 8th grade year at Friends fully virtual. "I and my mother can be a bit extra cautious when it comes to health."
Although virtual learning was physically safer, many students felt it was worse for them psychologically.
"It kinda felt a bit isolating," says junior Jackson Long, a virtual student for two-thirds of last school year. "Staying at your computer all day, it's not good for your mental health."
Isolation was one of the major problems virtual students faced, as it was hard to participate in clubs or classes. 
"There was more of a disconnect on the days when it was hybrid, and there would be some people in person and it would be me and maybe one other person on zoom," says Maeve. "I felt like maybe the Zoom students were not getting the same amount of attention as the in-person students." 
Teachers last year not only had to keep track of their students in person, but also ensure that their online students were not forgotten. As the number of virtual students got smaller and smaller, many virtual students felt the priority fell more to the in-person students. 
But Friends did the best they could in the situation. The school installed OWL Cameras, and even made some clubs and activities fully virtual. Some teachers ran distinct lessons, simultaneously, for their in-person and virtual students. 
Not only was participating in classes hard for virtual students, but interacting with others was a struggle.
"What you don't get when doing the online program is the personal connection with the rest of the class. While everyone else was laughing, having fun, I could only experience all of it from what I could hear or see," says Matthew Wilkins, a junior who was virtual for almost the entire year. "I eventually got to the point where every day seemed repetitive. It was like I was in the back seat while my mind replayed the same schedule and day over and over for months."
Those who were virtual say they felt like they were on the outside looking in as others had fun without them. There was no way to interact with other students outside of the class times, where anything said would be heard by either the whole class or just the teacher. This made it hard for students to socialize or see their friends. 
"I had only one class in common with one friend. So when I was virtual, I wasn't seeing my friends day to day" says Jackson.
For those new to the Friends School community, making friends under those circumstances was almost impossible. 
"I still don't know my classmates that well, beyond the people that maybe reached out to me or the people I tried to talk to through clubs or sports," says Maeve, who was a new freshman last year.
While being virtual was hard, students say there were some benefits.
"Honestly, it was nice to just to be able to just sit at home with a cup of tea and do class, sometimes," says Jackson.
While last year had its ups and downs, this year is a new start for many virtual students
In 2021-2022, Friends did not give students an option to stay virtual, so all formerly all-virtual students are now fully in person. At first, this sudden change was difficult for some.
"Getting back into the routine of getting up at 6:30 was not a very appealing idea," says Khalil. "There was also the fact that it felt like there was less work to do when at home, versus being back at school."
However, students agree that staring at a screen cannot compare to being in person. 
"While online [school] and having as much time as I wanted sounded great," says Matthew, "you lose what made Friends such a great school:  the people."
Leave a Comment
About the Writer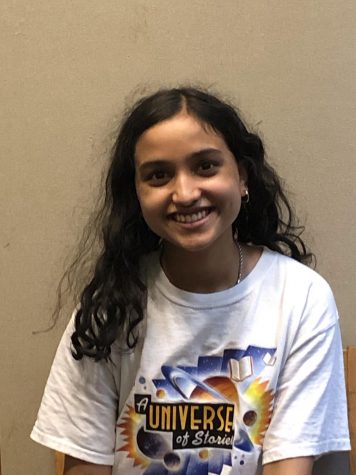 Krisna Kumar, News Editor
Krisna, class of '24, is both a News Editor and writer for the Quill. She is also involved in many clubs including Debate, Mock trial, Book Club, and the...