Be Yourself (Plague Doctors Welcome) at the Anime Club Costume Contest
Success. Without question, the Anime Club's 2021 Halloween costume contest impossibly exceeded all expectations.  Though, "contest" doesn't exactly paint the right picture.
It's quiet outside as you walk through sophomore hall up to Science/Math 217. When you open the door, you are transported to another world. Overlapping laughing voices tug on the hairs on the back of your neck as you stop to admire the sight. Then time begins again, though it never ceased, and you're aware of lights piercing your eyes, shining more gloriously than the sun.
"Hey there!" says a voice. This is the Anime Costume Contest."
Inside, an audience is gathered around the back of the room, chatting and having fun. The center of attention is the front of the room, where the participants have just presented themselves in their costumes. There's a healthy variety of characters. Some live up to the club's name and dress as anime characters: Joey Supik dressed as Goku, and Ollie Hovermill and Shirene Gehawi came as Kusakabe Hikaru and Sajou Rihito from Doukyuusei.
In the front of the room, a menacing creature of unknown identity reigns. Club adviser and Physics teacher Danny Duckworth has embraced the ominous shape of a plague doctor. Admittedly, we jumped when we stumbled upon the masked doctor lurking in the halls earlier. As she tells us later, the scary disguise gives her great pleasure all day, terrifying many Friends students as she silently roams the hallways.
Though this is officially a contest, one look into the room and you can see students are there to be with their friends. With the ones they enjoy. Their people. They also come for the space. This group creates a unique environment. The energy hits you like a geyser, though the laid-back nature of it sweeps past your ankles like they were dipped in a stream. Admittedly, it's a bit chaotic. Yet there's a peace that comes with it. A certain peace of mind exists in this space, the kind that's open to everyone, where people can be themselves.
In this space, your ideas are free to become manifest.  As Joey Supik's philosophy goes: "I wanted to be Goku. And so, I am."
In the end, it is actually a contest — one with a gift card prize, might we add. The competition is close, but a decision is required.
"We went over our deliberation. We were on different scales on how we rated it, but we all made a pretty general decision… It was close, but we think we came to the best decision possible," explained the two club heads, Brayden Mathias and Zach Davis.
The results, announced after a couple of minutes by the jury, are as follows: 1st – Joey Supik, 2nd – Miller Gruen, 3rd – Ollie Hovermill & Shirene Gehawi.
Suddenly the roaring, intimidating sounds of a reptile jar the ground. A dinosaur enters the room and attracts everyone's attention. After a few moments of internalized screams of horror, we recognize that it is only another costume; English teacher Mary Wiltenburg has surprised everyone with her unexpected appearance in disguise.
Not only did the contest create a wonderful moment of united gaiety, but it succeeded in spreading that excitement. The club heads say they are planning on continuing this tradition for future years. Anime Club has already made its mark this year, for unforgettable events create unforgettable memories.
Leave a Comment
About the Writers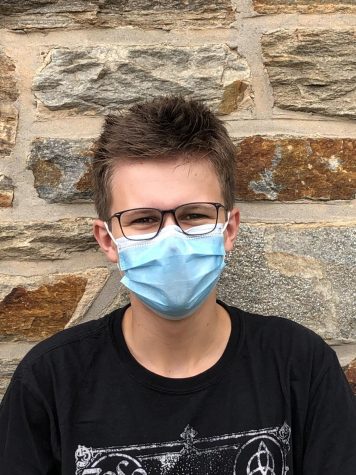 Philipp Janke, Staff Writer
Philipp, class of '24, is a staff writer for the Quaker Quill. He enjoys sciences, Math, and books, and likes to listen to rock music, make music himself,...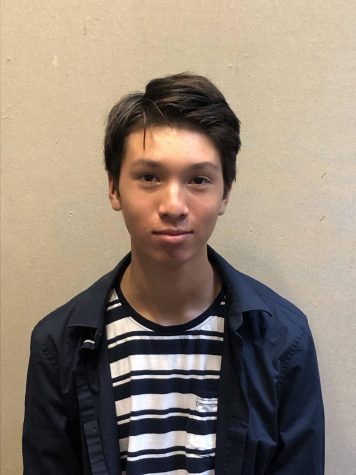 Thi Cost, Staff Writer
Thi, class of 2024, is new to Friends.  He loves to paint and play tennis, and he's excited to explore all the opportunities the school has to offer.