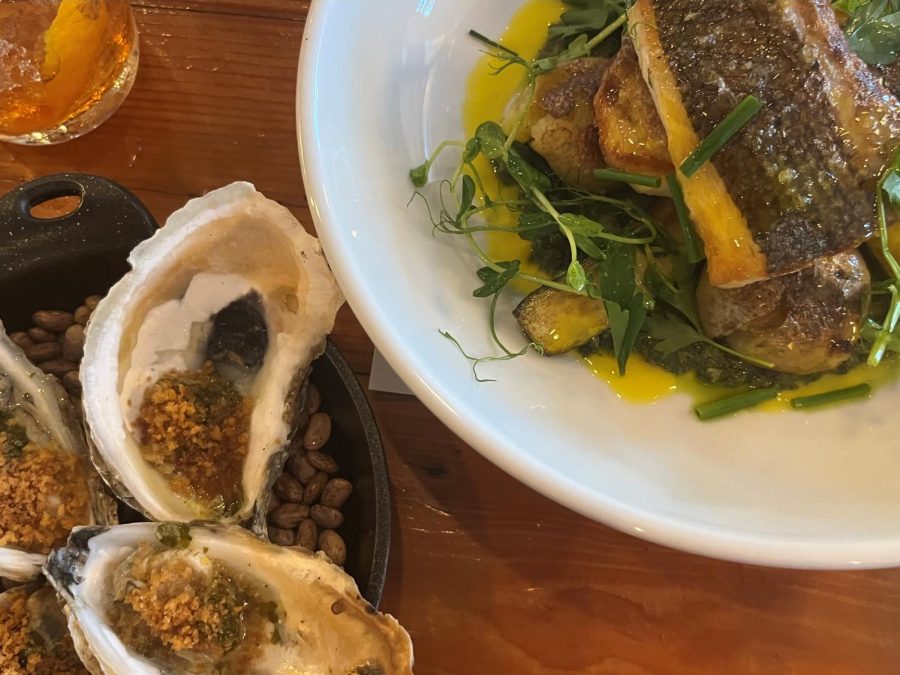 Visiting UVA? Oakhart Social is a Must-Stop
From the eclectic flavors to the communal dining experience, this Charlottesville restaurant is a winner.
The door was open as we walked into the lively dining space of Oakhart Social in Charlottesville, VA. Straight ahead was a classic-looking bar, with red cushioned seats and wooden countertops. Two bartenders worked tirelessly behind the counter. A shake, a twist, and an occasional clink all contributed to the restaurant's atmosphere. 
On a Friday in mid-September, my mom and I were in Charlottesville touring the University of Virginia. We had spent the day walking around the city, taking in the sites. I believe that for every college tour you go on, spending time in the surrounding town is just as important as spending time on campus exploring. Discovering the unique coffee shops matters just as much as finding the math department.
Eventually, we ended up at Oakhart Social around 5:45 pm. As chronic late eaters, 5:45 might very well be the earliest we have ever eaten dinner. But when given the opportunity to eat at an exciting new restaurant, any time will do. 
On their menu, Oakhart Social describes their dining experience as "eclectic flavors, shared experience." Reflecting on my dining experience, I can say that both those descriptors ring true.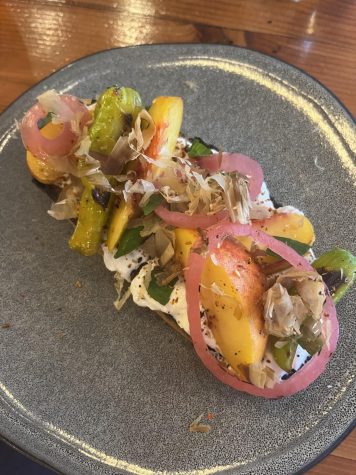 The space itself wasn't much larger than a two-car garage. Tables were pushed close together. Conversation bled from party to party. Everyone smiled and interacted with each other, as we shared a communal experience. 
The atmosphere wasn't the only exciting element of dining at Oakhart Social. Their menu was full of standout dishes that brought expressions of joy to diners' faces.
My mom and I split four: the beets, peach and shishito toast, wood-fired oysters, and seared rockfish. Each was exceptional. The variety of ingredients used, the unique combinations, and the pleasing presentation all contributed to the grin that was plastered on my face for most of the evening.
It was hard not to get swept away by the joy emanating through the room as everyone bit into their meals. Good food is even better when those around you are present to the wondrous experience too. 
Here are the basics. Oakhart Social is located on 511 W. Main Street Charlottesville VA. They start seating at 4:30 pm, Wednesdays through Saturdays. Reservations are highly encouraged as available tables are hard to come by.
In a pinch, though,do not pass up bar seating. The experience of communal dining is only amplified by the plush red seats of the bar. Outdoor seating is also available and a great option for nice evenings.
While I was only able to sample a few items off their menu, I assume many of the other items were just as amazing. In addition to classic dinner offerings, Oakhart Social has woodfired pizzas that looked and smelled just perfect. 
The man next to me ordered tiramisu for dessert. It only took one bite for a huge smile to spread across his face.
The eclectic flavors and shared experience made my dining experience at Oakhart Social one I won't easily forget. If you ever find yourself in Charlottesville, Oakhart Social is a must-stop!
Donate to The Quaker Quill