Touring NYC Schools? The Pho 2 Has Good, Cheap Eats
In Manhattan and looking for an easy and cheap dinner option? The Pho 2 has you covered.
College visit season is ramping up for seniors (and maybe some ambitious juniors). If a trip happens to bring you to New York City, like me this weekend, you should consider stopping by The Pho 2.
After an exhausting commute and college tour, I was hoping for something close and laid back. The Pho 2 was only a short walk from where I was staying, and seemed like a perfect choice.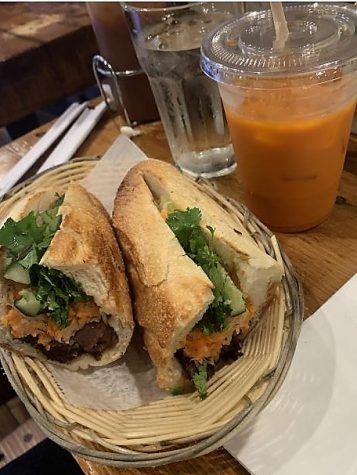 "Our Vietnamese restaurant is known for its modern interpretation of classic dishes and its insistence on only using high quality fresh ingredients," The Pho 2 says on their website. Located in the vibrant neighborhood of Chelsea in the heart of Manhattan, The Pho 2 offers a wide selection of Vietnamese cuisine. Prices are very reasonable, especially for the area.
The restaurant offers dine-in as well as online pick-up and delivery. While I understand the introvert urge to stay home, I strongly encourage enjoying your meal on-site.
The ambience is very low-key: only about ten tables, with just a few servers. The crowd is primarily young adults, late 20s to early 30s, making for a great informal get together or date night. Despite a small work force, service is still very efficient and friendly.
To quench my thirst from hustling around the city, I ordered a Thai iced tea. The Pho 2 makes an excellent version of this traditional drink. And its unique orange tone is definitely photo-worthy.
Next, my dad and I enjoyed a small plate of summer rolls. This is a dish consisting of carrots, cucumber, and shrimp in a transparent rice wrap. The combination of the crunchy vegetables and soft wrapping is sensational, and the dipping sauce adds a great boost of flavor to a bite that is a little bland without it.
As an entre I chose the pork banh mi: a small toasted baguette sandwich with meat and crunchy carrots and cucumber. My dad, history buff that he is, was quick to inform me that Vietnamese culture has many influences from France, as the country used to be a French colony. Hence the baguette.
While I would have normally chosen pho, I'm glad I went with the banh mi. The baguette was airy, lightly toasted, and complemented the juicy savory pork.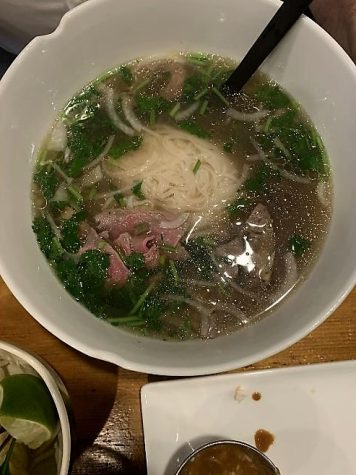 My dad ordered the flank pho, which was served in the biggest bowl I've ever seen for one person. It was probably big enough to fit a small dog. I was taken aback, but my dad was entranced.
It was served with pho noodles, flank steak, onions, and basil, basking in a warm pool of broth. My dad mentioned he was displeased by having to break up the ball of noodles, but enjoyed the dish once he got past that. To our surprise, he ended up finishing the whole bowl.
For my official rating, I give The Pho 2 a four stars out of five. The food was pretty good, but nothing that absolutely blew my mind. I would have given 3.5 stars if it had not been for the great prices, something very hard to find in Manhattan.
If you are in Manhattan any time soon looking for an easy and cheap dinner option, please consider stopping by The Pho 2! 
Donate to The Quaker Quill