It was a standing crowd. FSAA – Friends School Athletic Association – had declared the game a whiteout. So the crowd was wearing white shirts in the student section. There was lots of energy. 
Earlier that evening, boys' JV Basketball had played their last home game, so there were already people in the gym for that. But more people came for the Varsity Senior Night game.
All the seniors were there. Assistant DEI director Manny Rodriguez was announcing. The seniors started in the back, and got announced up to the front of the gym. They went up with their parents, and some with their sisters. 
All the seniors went up to be cheered for and to get a single rose. The coaches were with them while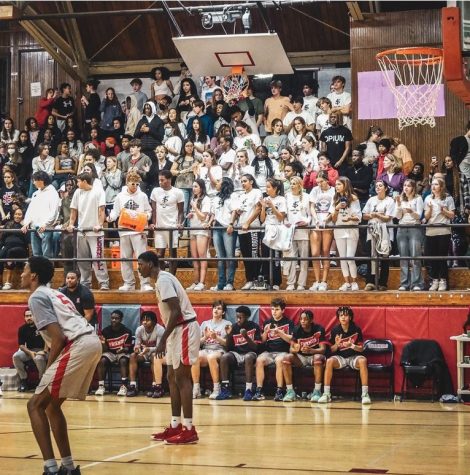 they took pictures. Each of the seniors had a poster, with their name and photos. One said "Kedrick Senior Night." Senior Kedrick Curtis's mom and family had made laminated signs of his face.
Then they had a light show, where all the seniors ran out and high-fived junior JJ Porter. The crowd cheered like crazy.
The team played Concordia. They started all their seniors, and it was a close game the whole night. In breaks, the dance team performed. Partway through, senior Max Palmer had a block. The crowd was all screaming and roaring. People were saying their legs were hurting from standing; you had to stand or you couldn't see. 
Finally, with three seconds left on the clock, the game was tied. Senior Colin Taylor inbounded the ball to Senior Kedrick Curtis, which set him up for an easy layup. The Quakes won the game and the whole Varsity team rushed the court, jumping up and down!