A Loss On the Scoreboard, But a Win for Fans 
Friends' first Friday night game featured Boys Varsity Volleyball, and packed stands of grey-clad fans.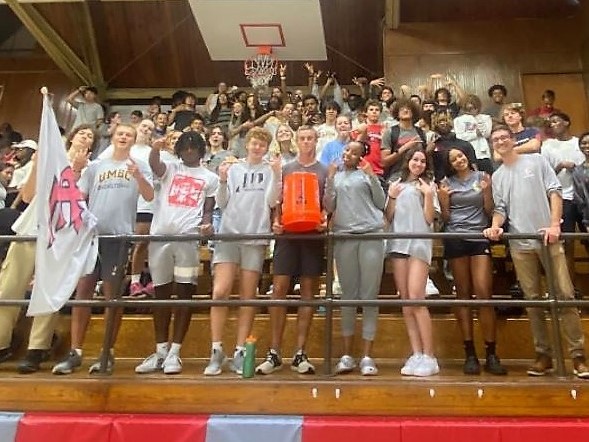 There was the frantic squeak of sneakers on the gym floor, and seemingly never-ending rounds of, "Here we go, Quakers, here we go!", interspersed with Friends School's unique SpongeBob cheer and the booming sounds of the bucket drum.
We were down 8 to 25, but the score hardly mattered to the crowd. Freshman libero Asish Chhetri made an amazing save, and a great swell of support went up from the bleachers.
"Asish, when he gets in the zone, is very, very good. He's fast; he can receive balls," says Sam Mulcahy '24, who plays middle blocker.
This was our very first Boys Friday Night Volleyball against Archbishop Spalding High School, on September 16th. Attendance was high in the cheering section, which was – more or less – a sea of varying shades of gray, in accordance with our infamous Groutfit theme.
"It's a good turn out," said Mr. Henschen approvingly, alongside the cheering fans. "There's lots of excitement."
Even at a school without a football team, sports like soccer or basketball tend to steal the spotlight for Friday night games. So it's rare that Boys Volleyball, an otherwise overlooked sport with 0 wins on their record, receives the support of over a hundred spectators and fans. But they did this time, for our first Friday Night game of the school year.
"I think it's going to be a close game," Sam predicted before the game. "Owen's a great hitter and blocker, and Declan is really athletic and a good passer."
The fans had high hopes as well.
"I'm feeling pretty hyped here. Think we're going to get a dub," said senior Colin Taylor.
This time, though, it wasn't to be.  Our Varsity team lost all three sets.
But fans say their confidence and positivity made up for it. A Spalding parent was so impressed, they even took the time to email Friends Athletic Director Kara Carlin post-game.
"Your kids/parents' school spirit was infectious and honestly was like the 7th man on Friday night!!" they wrote. "All of our parents that attended the game commented on what a great atmosphere it was."
Junior Macy Goldberg couldn't agree more.
"Despite the fact that we lost, I know everyone had a really good time," she said. "I felt a lot of energy in the crowd, especially when they came close to winning the third set."
The crowd was certainly enthusiastic during the third set – and not just because the team was on the brink of losing! They made some truly impressive plays.
Near the end of the game, junior Alex Richards jumped high in the air. Towering over the net, he tipped the ball, winning the team a point and triggering loud cheers from the crowd.
Because of the persistent gap between Friends' and Spalding's score on the scoreboard, the audience found any reason to cheer for our home team. They shouted specific encouragement to the players.
"Serve it up, Thi, serve it up!" someone cheered. Then Thi executed a perfect float serve. 
The crowd also cheered anytime Asish or Jullian Marquez earned the team a point.
"He's a freshman!" they bragged to our opponents.
Players found this encouragement very motivating. 
"There was so much support from the audience" said team member Noah Ripke, '24, "We couldn't have asked for more".
Spalding's head coach for Boys Varsity Volleyball, Eric Raynor, also had a few words to say about the game.
"The best part about it was that the stands were full of spectators, and the support for Friends' volleyball was great," he said.
Mr. Raynor also said that, though he focused a lot on his own team, he was honestly "more excited about watching the libero from Friends not give up and play every ball he was capable of playing."
Competing against highly ranked schools with a team of only two seniors and many underclassmen new to the sport is certainly difficult. But the senior captains have done an admirable job leading the group.
"They really take on the role of mentors, because we have a lot of pretty young team members who don't know the game that well," said Sam. "Owen [Miller] and Declan [Creaney] really help them out with that."
Many members of the team said they felt that, despite their loss, there was a lot to be learned from the game – and a lot to celebrate.
"Even though we lost as a team, we had great team spirit out there on the court," said Noah. "We are always trying to grow together and experience things together."
And for underclassmen, this is just the beginning.
"The younger players definitely recognize that they have a lot to learn, and I think that is a really good mindset to have," Sam adds. "Even if we don't win any of our games this year, we are still growing as a team, which in my eyes, is far more important."