Review: 'The Old Man & the Three' Tells Fresh Stories of Sports Legends
Big sports media companies want easy clicks, not stories that really mean something. This podcast wants to help fix that.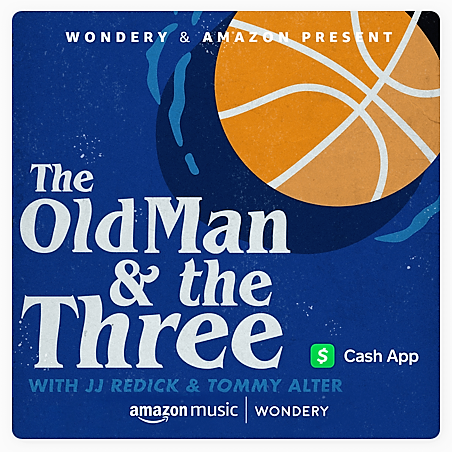 This weekend, I listened to "The Old Man & the Three," a podcast hosted by former National Basketball Association player and college basketball legend JJ Reddick.
Mr. Reddick had an illustrious college basketball career, playing four years at Duke University, and winning national awards, Most Valuable Player awards, and any other accolades you can think of.
Once he got to the NBA, he had a successful career – not on the level of his college career, but still very impactful. During his NBA career, he decided he wanted to give other players an outlet to talk unfiltered. That's what led him to start his podcast.
Reddick's podcast is part of a "new media" wave, in which players and young people step away from corporate sports news, in an attempt to get more heartfelt and deeper stories.
Big sports coverage companies want surface-level information, the kind that will get them easy clicks and views. They want a proposed trade, or a signing, or drama. They don't want the origin stories, the true feelings of the athletes – the stories that really mean something.
That is what the "new media" attempts to do. I believe this is the future of sports coverage, as younger people are more compelled by a deeper understanding of the players. I find myself way more intrigued by the lives and thoughts of the athletes than what the mainstream news sources report on.
The particular podcast episode I listened to was the first iteration of Reddick's interview with Chris Paul, another NBA legend, and his longtime teammate. Their interview was recorded in 2020, so some of the things they spoke about have changed since then.
I was attracted to this interview in particular by their special bond. They've known each other since high school, playing against each other in high school, college, and the NBA.
They began with small talk about how life has been, and how they are adjusting to new teams and areas. At the time of the interview, Paul had recently signed with the Phoenix Suns, and had just moved in to his house just outside of Phoenix.
They talked about why Phoenix was such an attractive location for him to sign. He gave multiple reasons – like playing with Devin Booker, a young star who is already one of the best players in the league. Also, coach Monty Williams used to coach Mr. Paul in past years, and already had a good relationship with him.
Mr. Williams' contract with Phoenix has worked out great so far. The team made it to the NBA finals in 2021 (where they lost to the Milwaukee Bucks), and had the best record in the NBA in 2022 (though they lost in the conference semi-finals to the Dallas Mavericks). According to Mr. Paul, Williams' leadership has brought the young team together, and they've been able to have immediate success.
"It doesn't feel like it's been 10 years since I've played for Monty," Paul said about Coach Williams. "It just feels so right, and I'm expecting great things from this team"
Then, he and Reddick moves on to talk about their relationship, and how it has evolved. Early on, it was dramatic. When they first played each other in college, Reddick attempted to draw a foul on Paul, which led to an angry confrontation
"That shit ain't working, motherfucker," Paul remembers saying.
Their conflict continued the whole game, going back and fourth until Paul and Wake Forest were able pull ahead of Duke.
The rivalry persisted through their college careers, always attracting lots of media attention. It was a pretty even rivalry: Paul won some, Reddick won some.
I found this part of the podcast especially interesting, since the way they treated each other then is such a contrast to their attitude and relationship in the podcast. They finally were able to put their differences aside once they were paired in the NBA.
Listening to "The old Man & The Three," it feels fresh to hear directly from NBA players, instead of the typical corporate stories. It's remarkable to me how they were able to unveil the lives behind players' public personas, and what actually goes into playing at that level.   
Paul ended up going to the NBA before JJ, as JJ opted to stay in college for all four years. Once they were both in the NBA, their rivalry continued – and Paul was already a successful player.
During their first NBA matchup, Paul went over to the Mavericks' bench, the team that Reddick was drafted by. He taunted Reddick about not playing and not being on his level yet. They kept going at it until the Los Angeles Clippers front office asked Paul if he wanted to bring in Reddick to the team. Without hesitation, CP agreed – and asked that he be flown in as soon as possible. From there, they became good friends.
"You guys were the only people we knew in LA," Reddick recalled, as the two reminisced about those days. "We used to come over and watch shows and drink wine with you almost every night."
This is probably my favorite podcast. The bond between them, the nicknames, the stories, and the deep level of conversation they were able to have made for, in my eyes, an excellent interview.