It may be November, but fond memories of Halloween continue to follow us through the months until October comes around again. So many things make Halloween one of the best holidays:  the costumes, the candy, the parties – and of course, the Advanced Topics in Computer Science Haunted House.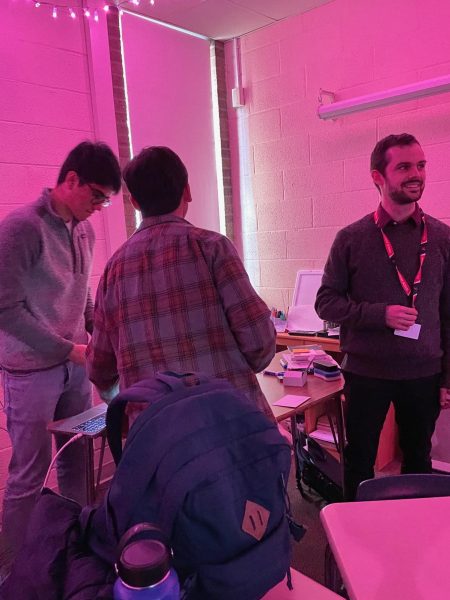 Last month, while searching the halls of Friends for free candy, I talked to Computer Science Chair Joel Hammer about the haunted house project he began last year. Why did he do it? 
The short answer: he really likes Halloween. 
The longer answer, he says, is that context matters in Computer Science. Opportunities for longer-term creative projects are important for learning.  
"[I want students] to realize that as hard as we work in ACS, … that you can actually do something with it, something kind of fun," Hammer said. "I think [when you] have a broader goal – like, 'Let's have a fun haunted house. How can we achieve that?' – you get an opportunity to be more creative, but also to learn more, because you're directing your own studies."
Walking into the computer science classroom-turned-haunted-house, I first noticed the immersive lighting. A pinkish-red glow engulfed everything in the room, creating a barrier between the haunted house and the boring hallway outside.
Hammer informed me that the lights were kind donations from his neighbors. As they were out of town and not using their decorations, he borrowed them. 
As visitors walked in the door, a plastic skull would jump out at anyone standing in front of it.
It caused a variety of reactions. I jumped. But others, like Upper School Spanish teacher Tom Binford, were unfazed.
After that, visitors had options.
"You can come play the video game, or the lights are gonna be interactive in some way. You can play with the lights or just have the spider jump out at you," Hammer said. "Or 'take the candy and run' is also an option."
One of the creepier student projects was a portrait with moving eyes created by Ronan Glick and Matthew Weisman. Flipping the poster around to reveal a mess of tape and wires, Glick showed me that the eyes were powered by motion sensors.
"So these are hypersonics, and the hypersonics basically detect movement. They detect an object and how far away it is. [The code] asks the hypersonic, 'Hey, do you see something this close to you? Yes or no?'" explained Glick. "And if it sees something really far away, like if no one's in the way, it will just see the other side of the classroom, so it won't see anything. If it sees someone really close, it'll say 'Yes, there is someone really close here.' "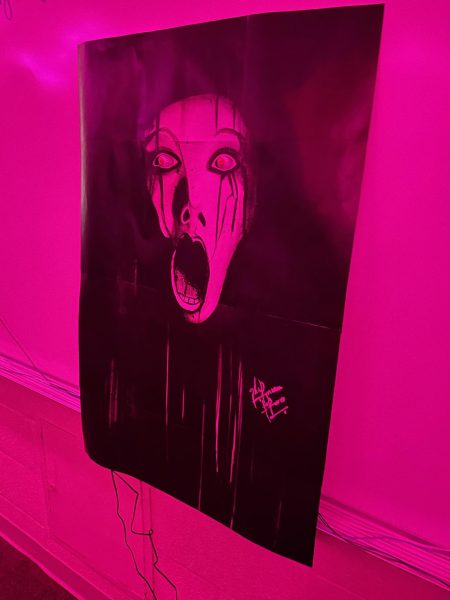 Then the sensor would judge which side the person was on, and move the eyes accordingly.
Glick's reasoning for why he did the portrait lines up with  Hammer's reason for creating the haunted house project in the first place. Glick says his team picked a simpler concept with the idea that if it worked, they could build on it further.
"So we can expand on it, and have creativity with it, which is why I chose it," said Glick.
Overall, visitors and participants said the whole thing was a fun, immersive experience for everyone involved. 
Hammer says he hopes it will help make computer science feel accessible to more students. Try a class, he says.
"You can come in with no experience, bringing only your own personal interests and excitement and enthusiasm and ideas and hopes and dreams," he said. "Whatever you put into it is what you get out of it."
And for students worried about failing?
"I don't think anybody's ever failed computer science. I think it's pretty hard to fail. If you're worried, just give it a try. There's really very little to lose – except, you know, a couple of free blocks that maybe people like to have," Hammer said. 
So remember to keep a lookout for the haunted house project around Halloween, and stop by for some fun and candy next year!