Review: 'Milo Goes to College' Not Just For Straight-Edge 50-Year-Olds
On the 40th anniversary of the album that laid the foundation for punk, teens should check out the Descendents.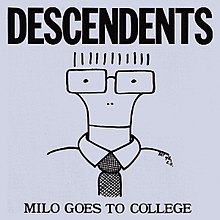 "I want to be stereotyped …
I want to be classified…"
This year marks the 40th anniversary of the album that laid the foundation of punk for decades to come: "Milo Goes to College" by the Descendents. Originally released in 1982, this album was recently rereleased on Spotify to mark its anniversary.
With fast-paced, catchy basslines, hard-hitting drums, and scratchy, whiny vocals, the album holds all the most important and memorable aspects of 1980s punk. "Milo Goes to College" is particularly important to me, as it was my introduction to punk rock – the scene that made my love for music blossom.
Although the album is kind of a big deal, it's almost always within a certain scene and age group. The typical crowd at a Descendents concert looks like a sea of burnt-out, graying, former punk rockers – mostly men who related to the music when they were young.
But emotions and sentiment are timeless. In my opinion, younger crowds will also appreciate the album – and enjoy learning where the roots of alternative music lie. 
This album will transform melancholy into motivated anger with its frantic guitar and personal lyrics. With tracks like "Bikeage," "Hope," and "I'm Not a Loser," listeners will relate to the lyrics and simultaneously feel more invigorated.
The dejected songs of the album are balanced by songs like "Marriage" – a love proclamation filled with questions – and anti-conformist anthems like "Suburban Home" and "I'm Not a Punk." 
Milo Aukerman, the lead singer of the band, really did go to college. The album marked his departure from the band, with plans to attend the University of California. There, he studied biology, and became a scientist.
But ultimately, his love of music prevailed. As the entertainment magazine Exclaim! reported in a timeline of the band, while Aukerman was in school, the band recruited Ray Cooper as lead singer, and the Descendents went on to make more and more albums.
Over the years, though, Aukerman returned periodically to sing with them. Eventually, in 2016, he left his scientific career altogether, to rejoin the Descendents full-time. 
This album has been critically acclaimed by many noteworthy magazines. It appears in the top lists of influential punk and alternative albums by Spin, Kerrrang!, LA Weekly, and Rolling Stone.
Unlike many albums – especially modern pop albums – one listen won't leave you bored. Instead, this album is good for as many listens possible, without losing its magic or allure.
A full listen to this album leaves listeners nostalgic and hungry for more. Luckily, the Descendents have a full arsenal of albums like this, including the newly released 2021 album "9th and Walnut," with posthumously released guitar tracks by Frank Nevetta, who passed away in 2008.
But this album remains a classic. Just like Spin, Rolling Stone, and more, I would call "Milo Goes To College" one of the best and most influential alternative albums ever.