Review: A Decade After '1999,' Bada$$'s '2000' Deserves the Hype
With both deep, heartfelt songs, and songs you want to blast in the car, '2000' is a fantastic album – and a worthy successor to '1999.'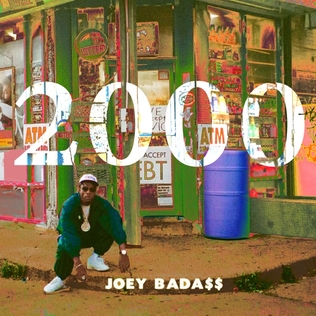 When I heard, on May 11, 2022, I jumped up and texted all my friends. After a 5-year hiatus, New York hip-hop artist Joey Bada$$ planned to drop a new album on June 17, 2022. It would be just days after the 10-year anniversary of his first mixtape/album, 1999, which he made when he was just 17.
I marked the date on my calendar.
I consider 1999 to be one of the best, if not the best, hip-hop albums ever released. Every single song is amazing and the use of samples from that album has influenced all of the other music I like. So I had high expectations for Mr. Bada$$'s new album. Its name, 2000, was even a nod to his first album.
So when June 17th, I immediately checked my Spotify notifications. The album hadn't been released. I went to the internet to figure out why. Maybe there were just problems with Spotify?
Within seconds, I learned what had happened: sample clearance. 
"Man I got some terrible news, my album won't be coming out tonight due to sample clearance issues. Right now, it's unclear how long I'll have to postpone it but my hope is no more than 2 weeks," wrote Bada$$ in a social media post.
Some of the artists and labels whose music he'd sampled on his new album had yet to approve his use of their music in his. For an artist whose style uses samples as heavily as Joey Bada$$ does, not getting sample clearance can be a killer.
On July 22, 2022 the album was finally released. But after the long delay, it felt like it had lost a lot of the hype from the month before. 
Luckily, the minute the first track "The Baddest" began playing, the excitement returned. 
In my opinion, the most notable songs off the album are "Show Me" and "Survivors Guilt."
"Show Me" is one of the most unique hip-hop songs I've ever heard. The beat of the track is taken from the song "Show Me How" by indie artist Men I Trust.
Men I Trust is commonly classified as dreampop, and this song is no exception. It's a slow and floating song. A song you would never think someone could rap over.
Yet Joey Bada$$ does it. And he does it so well.
"Survivors Guilt" is a very different song. It's much more in line with his typical style, especially the style from 1999. The song is a tribute to Capital STEEZ – a founding member of the rap collective Pro Era, to which Joey Bada$$ belonged – and to Joey's cousin and manager, Junior B.
STEEZ committed suicide in 2012. So the first three minutes of the song talk about Joey's relationship with STEEZ, and mental health. The song name comes from the concept of 'survivor's guilt,' and Bada$$ feeling guilty that he lives on and has attained so much success. His early career was built with STEEZ, and losing him hit Bada$$ extremely hard. 
For the next minute and 30 seconds, Bada$$ talks about how he feels responsible to share his cousin's legacy, since Junior worked behind the scenes. 
The final lyrics of the song are Bada$$ talking about how losing those so close to him has hurt him – but also taught him to appreciate every day. 
With both deep, heartfelt songs, and songs that you want to blast in the car, 2000 is a fantastic album – and a worthy successor to 1999.