Review: Jordan Peele's New Project 'Nope' Is a Must-Watch
Not just a compilation of unnatural sci-fi occurrences, the movie is full of clever connections, pivotal plot points, and hidden meanings.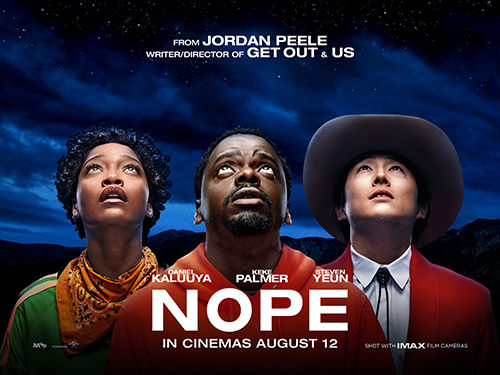 Nope (2022), directed by comedy and horror/thriller master Jordan Peele, is a movie unlike any other I have watched. It's full of weird, memorable, well-crafted scenes that leave viewers confused and wanting answers. 
Like Mr. Peele's previous movies – "Get Out" (2017) and "Us" (2019) – "Nope" is primarily a horror movie. But it's much more than lame jumpscares. I was constantly on edge while I watched, never quite knowing what was going to happen next. 
The plot catches you off guard – not just because you only know as much as the characters do, but also because of all the unnerving twists.
Without giving away too much about the story, "Nope" is a science fiction neo-Western horror comedy about two siblings trying to collect evidence of a UFO that has been showing up on their family's ranch and causing damage.
But even if that description doesn't pique your interest, or if you're just tired of alien sci-fi flicks, you'll probably still like this movie. Because it's surprising, and fun.
One of my favorite parts of this movie is the way it subverts your expectations. The movie isn't just a compilation of unnatural sci-fi occurrences. It's full of clever connections, pivotal plot points, and hidden meanings. 
Watching the main story unfold, we catch glimpses of a subplot linked to one character's past. I don't want to spoil anything, because this subplot is one of the most intriguing parts of the movie. But it revolves around a gruesome tragedy, in which a family sitcom featuring a real chimp goes horribly wrong. 
This story is spread perfectly throughout the movie, to provide an uncanny parallel between the two plots. It also serves to cut off the main story and provide a sort of intermission, preventing you from ever getting bored. 
The movie only focuses on a few main characters, allowing for the viewer to watch in closer detail as each of the characters learns more about the looming danger. 
Each UFO encounter raises the stakes. I think the smaller cast works for the movie, because it lets the viewer connect with the characters on a higher level, and feel more engrossed in the story.
And the cast is a great fit. Keke Palmer, Daniel Kaluuya and Steven Yeun are very believable as their characters, and make the story feel much more real. On top of that, the scoring and filming of the movie makes the world feel even more believable – making the film stand out even further. 
The scenes themselves are compelling to look at. But, if you pay attention, you realize almost every one also contains metaphorical imagery, or a deeper meaning. It makes for a captivating story you can't take your eyes off of. At least I couldn't. 
While "Nope" is almost guaranteed to entertain horror or thriller fans, I also think that anyone would enjoy watching it. It's extremely original, and keeps you hooked the whole way through. It even made me want to watch the movie again, to look for things I missed the first time.
But don't just take my word for it. I've seen a lot of good feedback for the movie online, including an 82% on the Rotten Tomatoes "Tomatometer." 
If anything in this article piqued your interest, consider watching "Nope."