School Welcomes New Families [Brief]
At the "Festival of Friends" celebration yesterday, dozens of admitted students and families visited campus and enjoyed a morning of performances and conversations.
Yesterday, the school celebrated all the families coming to Friends School of Baltimore next school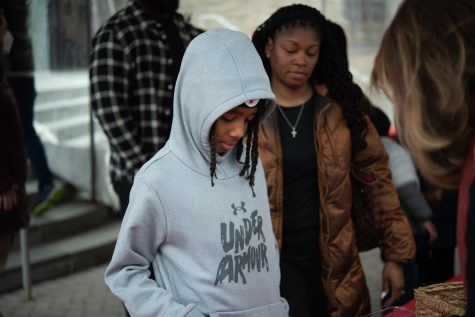 year, with the Festival of Friends. After making it through the Friends admissions process, future FSB students are invited to one last look at our school!
There was a big tent up outside the Forbush Atrium and in the quad, with many nervous and excited families hanging around and enjoying a breakfast of fruit kebabs and bacon straws. After check-in, there were performances from the fiddle club, the Upper School jazz band, and the middle school chorus, ending with a preview of the upcoming middle school production of Xanadu. 
After the performances, there were a few different activities depending on the student's ages. Future
Lower School students went to the gym for coloring and obstacle courses. The kids enjoyed playing and running through the different obstacles. Middle Schoolers went to the Library for an activity together, and Upper School students and current Friends 8th graders went to the Zamorski Alumni Center, or ZAC, where they got a chance to ask questions of a panel of our other student ambassadors.
As families were leaving they were gifted with an FSB compass to symbolize the start of their new journey, with us here in the Friends community!