I have five gay parents.
It is very confusing, so I won't go into detail. Honestly, being surrounded by complicated gay people all my life has been a struggle. Having to explain my family tree to everyone I meet is frustrating.
But I've grown up with queerness all my life. To me, it's normal.
My parents are all proud of their queer identities now. But they've struggled a lot, in the past, to be themselves in a society that doesn't always accept them for who they are.
When it was announced last year that Friends School's spring musical was going to be "The Prom," I had no idea what that even was. After doing some research, I realized that I hated the music. It didn't strike me as an especially gay show just by listening to the soundtrack – maybe because I'm used to living with gay people. It didn't even phase me that the first lyrics of one of the songs were "Note to self, don't be gay in Indiana."
Then I watched a bootleg of the show online, and realized: "Woah, this is actually really gay."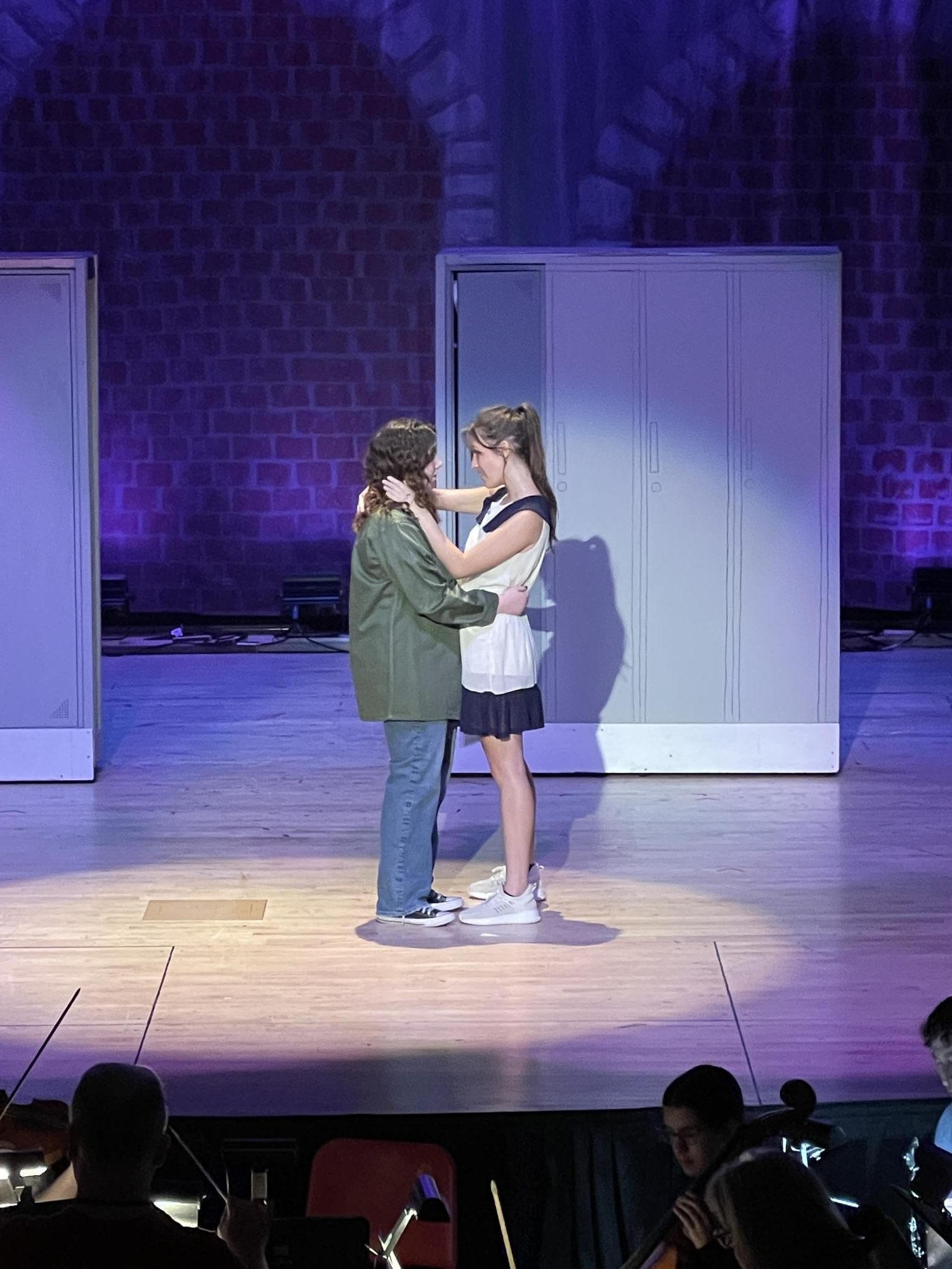 So, I decided I would audition for the role of Emma Nolan, the lead of the musical and an openly lesbian girl in Homophobic Town, Indiana. Like my parents, she is being discriminated against because of her sexuality.
I remember being certain that I wouldn't get the role. I wasn't the most confident in my singing ability, and simply being a freshman made me feel like I was destined to fail. But once I got a callback audition, I thought, "Maybe I can actually do this!"
I wanted to get some feedback on the song I was singing for the callback. So I sat two of my moms down one night and sang for them a 16-or-so-measure chunk of the song "Unruly Heart." Focused on the sheet music, I didn't notice when my mom started sobbing.
When I finished, I looked up and saw her crying. She put her hand on her heart and said something like: "That was beautiful."
This was such a powerful moment. I could tell that my mom deeply related to the lyrics:
So, fears, all in the past

Fading so fast I won't stay hidden anymore. I'm who I am And I think that's worth fighting for.

And nobody out there ever gets to define

The life I'm meant to lead With this unruly heart of mine.
At that moment, I realized I needed to try my best to get this role. I knew that if I did, I would be able to tell a story that means so much to the people I love the most. 
So I gave it all I had. And it paid off! I was cast as Emma.
Now it was time to start learning my part. At one of the first rehearsals, music teacher Michael McVey told some of the cast to watch the Netflix show Heartstopper, about a queer friend-group in England, for 'gay research.' (Of course, I had already watched the show.)
I found this kind of funny, honestly. But it was also surprising to hear that some people at Friends don't know any gay people.
As I started to understand the character more, and become more familiar with my lines and music, I also started to realize that Friends doing this show is a big deal.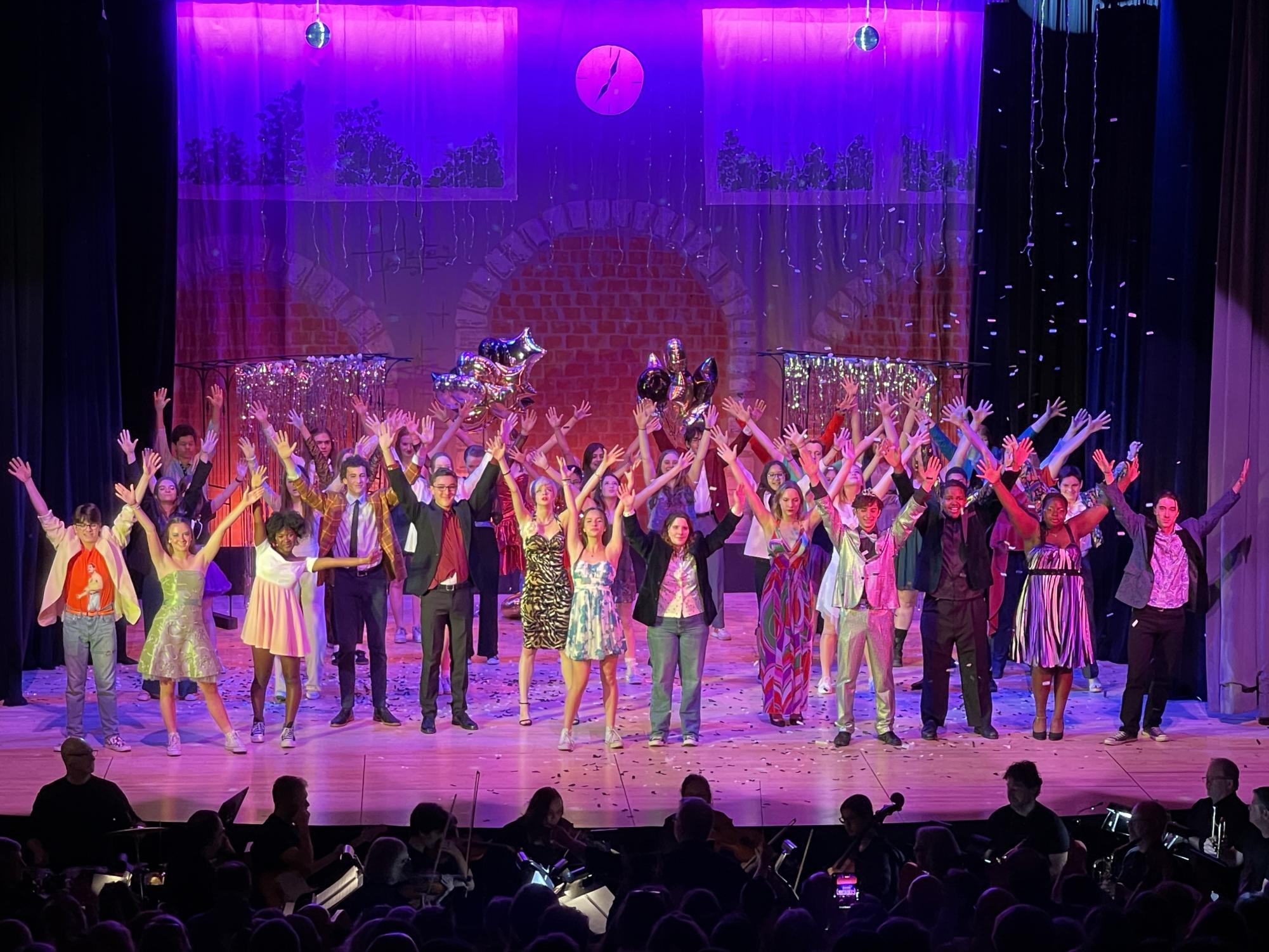 Trying to understand the emotions Emma is feeling over the course of the musical, I did some research on actual cases of students getting banned from prom because of their identities. It was disheartening to see that her fictional experience is actually a common thing happening in real life, in some states.
Not only did the musical mean a lot to my family – it also meant a lot to kids like Emma Nolan across the country.
Instead of feeling scared about telling such a meaningful story, I felt grateful. Grateful to be at a school that is doing this musical, and grateful to be surrounded by people who always accept me for who I am.
I gave it my all, to make the audience really feel bad for Emma.
In the musical, there's a whole debacle about prom, because Emma wants to take her girlfriend. With the sometimes-clueless help of some visitors from New York, Emma goes through a transformation: not only changing the minds of some people in her homophobic town, but also finding her own courage.
This plot line meant so much to me. As someone who never would have seen herself being up on a stage in front of hundreds of people, I related a lot to Emma. 
During the opening performance, I was so motivated. I knew my moms would be in the crowd cheering me on, so I decided to perform for them. I was so excited to tell this story that meant so much to them.
After the performance, I went out into Forbush atrium to greet everyone. If I had a dollar for every time someone told me they cried, I would be so much richer. This was so moving. The fact that I went up on that stage and successfully told this story was one of the best feelings in the world. I was proud to have been able to share one of the most meaningful messages that I am so passionate about.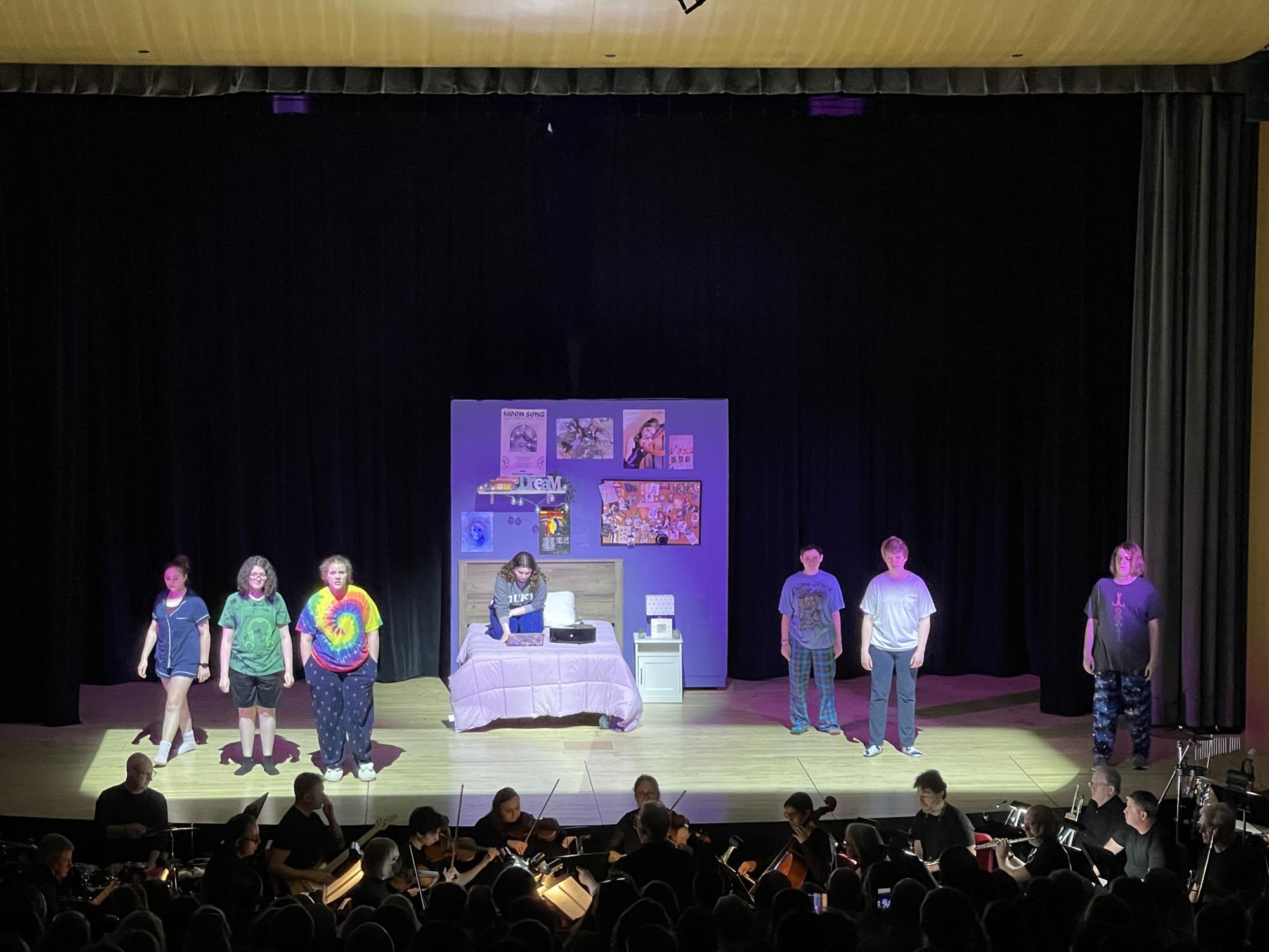 So many people were so happy to see this kind of media being openly shared. Whether they were in the audience, in the actual production, or behind the scenes, the musical meant something to everyone.
Audience member Indigo Mosley said what stood out to them about the musical was the fact that "We were able to do a musical like this at this school – not only the content, but it was a very influential musical."
For ensemble member and graduating senior Claire Carducci, the production had a deep personal connection.
"I found this musical at a point in my life when I was a very closeted lesbian kid at a Catholic school, and I was like: 'Wow, a show about people like me!' " she said. "This show, getting to do it at a culminating moment, it's kind of like a big full circle moment, because it was in 8th grade-ish that I first found it, and here I am, as a senior, having actually been in it. [I]t was just special to be a part of and seen it brought to life with people that I know."
And for teacher and director Rob Oppel, this musical was different than all the past productions we've done at Friends.
"There was more heart in this show because the subject matter was something that the cast and crew could relate to. It was something that they dealt with and are dealing with in their everyday lives," said Mr. Oppel. "It was less about the skill and more about the heart that was involved, in the students."
After the performance, one of my moms said: "It's about time." They were referring to how long it took for this society to become accepting of gay people.
This hit me hard. I started remembering that my moms didn't grow up in as much of an accepting environment as me. In fact, they had to get married in Canada because same-sex marriage wasn't legal in the US. This made me even more grateful to be able to share this story.  
The point is, "The Prom" was not just a showcase of the talent at Friends School – though there was lots of that. But behind all of the singing and acting and dancing was a strong underlying message of inclusivity and LGBTQIA+ rights. This made this musical a wonderful experience for everyone: audience members, performers, directors, parents, and everyone else involved. For sure I will always remember how it felt to share such a meaningful message through art.