This year, students have found themselves facing a shocking new level of enforcement of the Friends phone policy. 
With the arrival of Upper School Head Brandon Rogers, Dean of Students Travis Henschen has asked teachers to enforce the phone policy in the Upper School Handbook. This policy has been in the handbook for years, but the enforcement has been lenient, so students had the option to store their phones in backpacks or pockets. Now, teachers are asking students to place phones in bins for the duration of class. 
"Cellular phones may not be on, visible or used during class time, Meeting for Worship, Collection or assembly without the School's permission between the hours of 8:00 a.m. and 3:30 p.m.," says the Upper School Family Handbook on page 54. 
Many students are confused, assuming that this is a new policy being implemented. But it is actually an old rule, written about 15 years ago. 
"There is no new policy, it's just being enforced more," said Mr. Rogers, when asked about his involvement with the new phone policy. 
Either way, students aren't happy about it. 
"My phone is not a distraction to me in class. I prefer to keep it on me in case of emergencies," says senior Warren Scott. 
Senior Ella Salvador agrees.
"It should be on the student whether or not they choose to put phones in the bin," she says. "At the end of the day, if you decide that you want to be on your phone during class, you're the only one that will suffer because your grades will reflect that you weren't paying attention."
Junior Khadejah Allen adds that this restrictive policy isn't getting high school students ready for college. 
"In college, they won't collect the phones," she says. "Isn't high school [supposed to be] preparing you for college."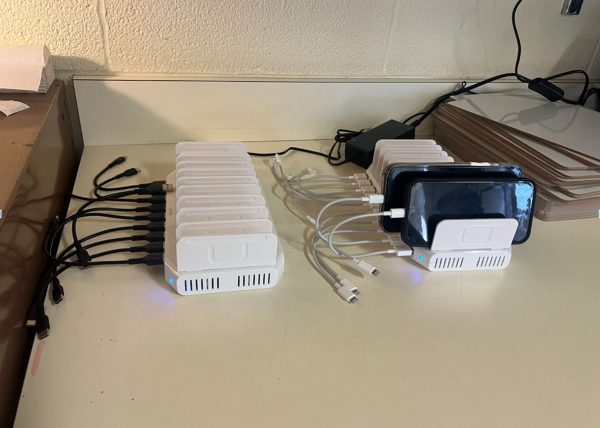 Knowing students don't like this policy, teachers have found innovative ways to change the bins. For example, math teacher Amber Wagner-Gaines has a charging station in addition to her bin, which allows students to charge their phones while they are in class.
Despite most students being against this new enforcement, some teachers say they enjoy it. 
"I think it's appropriate for you guys not to have your phones in class and in common spaces such as the Meeting House or the Auditorium," says math teacher Jordan Wright. "I think this year there's just a renewed emphasis on phones and perhaps it's due to new leadership in general. But I mean, it's a new year. Last year was last year. And I think faculty realized we could do better making sure the learning environment is better for you all during class."
Many studies show that when students have access to their phones, they are more prone to distraction. A 2018 study by the Pew Research Center found that, "31% of teens say they lose focus in class because they are checking their cell phone – though just 8% say this often happens to them, and 38% say it never does."
Although this research suggests that having some phone restrictions in school is a good idea, the Upper School hasn't chosen to ban cell phones, like Friends Middle and Lower Schools have.  
Still, teachers and administrators recognize that the Upper School's current policy is severely outdated. Mr. Henschen has started to update the handbook policy for the current school year, removing things like references to "musical devices" that no one uses anymore. Next year, he plans to form a committee with both student and teacher input, to write a new policy that reflects the way students use their phones these days.