NFL football is in full swing – and that means it's time for weekly score predictions by Quaker Quill reporters Solomon and Sam.
If we disagree on a result, we'll give two explanations. If we give two different scores but agree on the winner, we'll only include a second explanation if the disagreeing voice feels it's necessary.
At the end, you'll find two top-5 power rankings. These list the best teams the league has to offer, in our opinion.
We'll be experimenting with more ideas as the season goes on, so please leave us your comments!
Lions vs. Packers:
Lions 27, Packers 21
Amon Ra St-Brown is pretty good at the game of football. So is Aidan Hutchinson. The Lions played both sides of the ball well last week, holding first-round running back Bijan Robinson to just 33 yards on 10 carries. The Pack should keep it close considering how well Jordan Love has been playing. Lions should get the edge though.
Falcons vs. Jaguars
Falcons 20, Jaguars 31
SURELY Trevor Lawrence will return to form with this one. The star QB hasn't been playing to his usual standard, only going 27 of 40 in the Jags' last game when passing. That, alongside week two's unfortunate outing, has left a poor taste in Jags fans' mouths. This game should right the ship.   
Side Note: Make sure you tune into this game on Disney+. It will be completely animated to the Toy Story animation style and set in real time. It will be a fun watch for sure!
Rams vs. Colts
SAM: Rams 18, Colts 19
I want to throw in at least one scorigami prediction (the first of a given final score). As a Rams hater, I want them to lose in the most hilarious way possible. Three missed extra points after a touchdown, two TDs without extra points and two field goals, or maybe the nuclear option. I've got a feeling if there's any team to score the league-first 1-point safety, it would somehow be the Rams. I have no real insights to offer about this game; I just think it would be funny if this happened.
SOLOMON: Rams 21, Colts 18
After last year, the Rams have become an underdog in most matchups. That being said, Puka Nacua has revived this team and could lead them to a win against the Colts
Ravens vs. Browns
SAM: Ravens 24, Browns 17
Deep down I fear they'll find a way to choke this one.
SOLOMON: Ravens 30, Browns 17
I have a lot of bias here, but I feel like this will not be a close game.
Vikings vs. Panthers
SAM: Vikings 24, Panthers 28
Deja vu. As good as the Vikings' offense should be, they just cannot win games. I'm not claiming the Panthers are good. If the Vikings' defense is a stick of butter, then the Panthers are a sponge: enough to cut through it, but butter is still butter, doesn't matter what's cutting it.
SOLOMON: Vikings 30, Panthers 21
The Panthers are a pretty terrible team. The Vikings have not faced a team this bad so far, and I believe this will be their first win.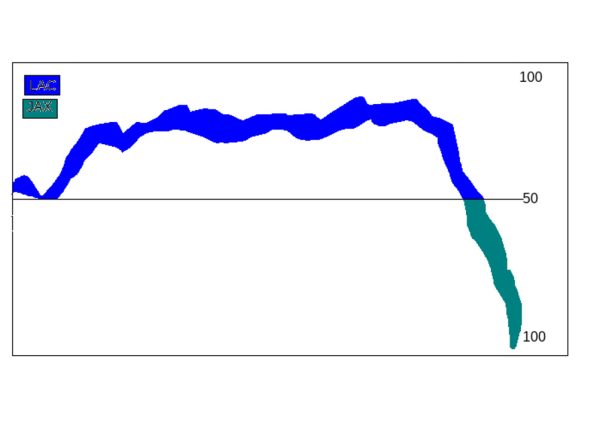 Bengals vs. Titans
SAM: Titans 6, Bengals 27
Six is generous for the Titans. The only win they've managed to nab this year was an OT win over the Chargers. For those who don't know anything about the Chargers, all you need to know is they are both a team and a verb. "Charger-ing it" is another way of saying "choking in an unfathomably awful way."
You know what? Here's a graph from January of 2023. The y-axis represents the likelihood of the respective team winning. Home team on the bottom, away on the top. Closer to the top is better for the away team. Closer to the bottom is better for the home team. Middle is break even.
The Chargers controlled the projections for just about the entire game. The Chargers held a 27-7 lead going into halftime. They lost 30-31. You shouldn't be proud if you beat the Chargers in OT. The Bengals will take this game handily.
SOLOMON: I have nothing important to say; this is possibly the greatest explanation ever.
Buccaneers vs. Saints
SAM: Buccaneers 17, Saints 21
Chris Olave is pretty good at football. 
SOLOMON: Buccaneers 21, Saints 17
Mike Evans is even better at football
Dolphins vs. Bills
SAM: Dolphins 42, Bills 38
I'm convinced that Mike McDaniel, Head Coach for the Dolphins, is a mad genius who spends all of his free time in the Dolphins' film room watching every frame of the opponent's defensive film and only goes outside to coach practices and games. This is not a dig at him; he just led his team to score 70 points for the first time since 1966. I'm just a little worried for the guy whenever he's not casually putting up over 700 yards of offense. The Bills are gonna have their work cut out for them. I wish Leslie Frazier, Defensive Coordinator of the Bills, only the best.
Bears vs. Broncos
SAM: Bears 6, Broncos 7
This game does not deserve to be televised anywhere. Do not let the Broncos' score fool you. The Bears' defense will not put on a masterclass in holding their opponents to a single TD. The Broncos will somehow find a way to only score once by their own incompetence.
SOLOMON: Bears 28, Broncos 0
Just trust me, this will all be Justin Fields running, but it will not be close.
Commanders vs. Eagles
SAM: Eagles 31, Commanders 20
The Commanders might need an actual miracle to win this. I don't know how well Sam Howell is gonna do after a 4-interception game. Maybe Brian Robinson will do something? Probably not.
SOLOMON: Eagles 31, Commanders 14
The Eagles' defensive line will be able to stop Brian Robinson pretty easily. But Robinson may be the Commanders' only option, so it should be an easy win for the Birds.
Steelers vs. Texans
SAM: Texans 24, Steelers 20
The Texans shocked the league last week by beating the Jaguars by 20 points. I think it'd be really funny if they got another win.
SOLOMON: As a Ravens fan, this would be hilarious. I can't wait.
Raiders vs. Chargers
Raiders 14, Chargers 28
The Raiders might manage to win a few games if their quarterback stops throwing the ball to the other team and their head coach learns addition. Even at age 30, Davante Adams continues to make his case for the league's best wide receiver. The Chargers seem to be getting it together after a rocky start to the year. Expect a decisive win from the Bolts.
Cardinals vs. 49ers
SAM: Cardinals 10, 49ers 35
One of these teams is making a run for the Super Bowl – and it's not the Cardinals. As impressed as I was with their win against the Cowboys last week ,they're just not a threat. Compare any given member of each teams' depth chart, and the 9ers come out on top every time. Last week was a road bump in Arizona's race for another first overall pick.
SOLOMON: Cardinals 20, 49ers 18
I am feeling another upset for the Cardinals. This is incredibly wishful thinking, but I feel as if they are once again going to be taken for granted. 
Patriots vs. Cowboys
SAM: Patriots 20, Cowboys 17
Speaking of the Cowboys! I can only imagine how Dak will do against an actual defense.
SOLOMON: Cowboys 28, Patriots 14
The Patriots' defense held the Dolphins to only 24 points, which is an incredible accomplishment. But the Cowboys are also an incredible team, and due to the difference in play-styles from the Jets and Dolphins, I believe their defense will have a much harder time.
Chiefs vs. Jets
Chiefs 35, Jets 7
Zach Wilson should be seeing his Seattle Seadragons contract pretty soon, if he's lucky. If not, he'd better start learning Mandarin.
Seahawks vs. Giants
SAM: Seahawks 24, Giants 17
Much to my dismay, the Seattle Seahawks are pretty good at football. Geno took a minute to get it together on Sunday, but he certainly got there. Kenneth Walker is also pretty good at the game of football, so that helps.
SOLOMON: Seahawks 22, Giants 25
I am unfortunately a Giants believer, and I think they could pull through with this win. It all depends on the availability of Saquon Barkley. But I can see the Giants pulling this off.
Sam's Power Rankings:
Miami Dolphins (3-0)

San Francisco 49ers (3-0)

Philadelphia Eagles (3-0)

Kansas City Chiefs (2-1)

Buffalo Bills (2-1)
Solomon's Power Rankings:
Miami Dolphins (3-0)

Kansas City Chiefs (2-1)

Philadelphia Eagles (3-0)

San Francisco 49ers (3-0)

Buffalo Bills (2-1)